Handyman Service with Integrity
"In the last few years Doug has taken on various handyman projects in my aging townhouse. I have read all the reviews of "Deke," and they are spot on regarding his work and his character…
Doug is indeed a man of integrity who has standards that put him in a class of his own. He is a passionate problem-solver, which is exactly what a handyman should be…
Doug is prompt, courteous, a good conversationalist, thoughtful, truthful, clever, extremely neat, and accountable. He will not leave your job unfinished, and it will be finished to your satisfaction…"
John W.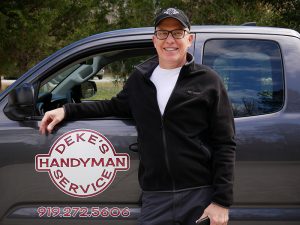 MY SERVICES
Whether it is a small job or a list of items, Deke's Handyman Service will review your projects and offer solutions to help you make the best decision for your needs. Here are just some of the services that I offer:
INSIDE
A majority of maintenance and repair needs occur inside the home. From the attic to the crawlspace, I can help you with:
All house maintenance and repairs
Plumbing repairs
OUTSIDE
Nature can be rough on a home. Siding and fence boards rot, mold and mildew grow, and outside decking cracks. I can help you maintain the curb appeal of your house with:
Light powerwashing
Deck maintenance and repairs
AND MORE…
In addition to home maintenance and repairs, I can also assist with:
Attic and garage cleaning, organizing, and storage
Computer and home networking repairs
Household appliance repairs
CONTACT ME
I am happy to answer any questions you have or provide you with an estimate for services. Just send me a message in the form below.
Email
Phone
Address
Cary, NC