Handyman Service with Integrity
To my dear customers…I was sent e-mail today from Nextdoor congratulating me on my business being chosen as a 2023 Neighborhood Fave. My sincere appreciation goes out to those who thought so highly, and took time to vote for me! Thank you so much!
Unfortunately, I can't directly share this great news with a most important lady…my Mom. Many of my customers knew about my Mom. She was incredibly supportive of my venture. She lived in Cary and was widowed in 1992. I spoke with her every day and spent much time with her. Sometimes a meal. Sometimes that crazy "honey do" list she always had (I miss that).
On the last week of July in 2022, she became very ill. I temporarily paused the business to help her. I made countless trips to Wake Med in Cary. First was the ER, then ICU, and some recovery. She never returned to the life that she had. On the very last day of the month, she passed away peacefully.
It's been a difficult time over the past year. I've received tremendous support from family, friends, and customers. Things have gotten better. I'm hoping my Mom knows just how much I appreciate all that she did for me!
July 26th, 2023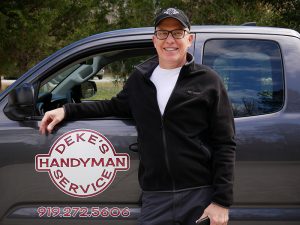 MY SERVICES
Whether it is a small job or a list of items, Deke's Handyman Service will review your projects and offer solutions to help you make the best decision for your needs. Here are just some of the services that I offer:
INSIDE
A majority of maintenance and repair needs occur inside the home. From the attic to the crawlspace, I can help you with:
All house maintenance and repairs
Plumbing repairs. My passion since 1972.
OUTSIDE
Nature can be rough on a home. Siding and fence boards rot, mold and mildew grow, and outside decking cracks. I can help you maintain the curb appeal of your house with:
Storm and screen doors
Deck maintenance and repairs
AND MORE…
In addition to home maintenance and repairs, I can also assist with:
Attic and garage cleaning, organizing, and storage
Computer and home networking repairs
Household appliance repairs
CONTACT ME
If you have a service need or would like to inquire about a new project, please use the form below…
Email
Phone
Address
Cary, NC